As I thought, the 'fake news' is in full swing.
Remember some of the questions which were hanging in the air?:
Was Paddock's room full of smoke when the SWAT team broke in?
Were there hundreds of spent cases all over the floor?
Did his gloves bear traces of powder?
Oh, wait. Here is a pic:
EXCLUSIVE: these are 2 of 23 guns found in #LasVegas shooter's hotel room at #MandalayBay – hammer, bipod, optics,… twitter.com/i/web/status/9…—
Jacqui Heinrich (@JacquiHeinrich) October 03, 2017
The first pic shows shell casings, but the second does not. Those pics have come from here:
http://www.independent.co.uk/news/world/americas/stephen-paddock-photos-hotel-room-guns-corpse-body-images-leaked-a7982966.html
A later pic shows Paddock's dead body.
Why are there a few shell casings around the gun on the left, but none around the gun on the right? Why are there only a few casings when several hundred bullets were fired?
OK. It is quite possible that there are piles of casings in other places.
My bitch about 'fake news' can be amply justified by this site:
https://www.google.co.uk/search?q=las+vegas+shooting&rlz=1C1CHFX_enGB530GB532&oq=Las+&aqs=chrome.3.0j69i60j69i57j0l3.4970j0j8&sourceid=chrome&ie=UTF-8
Note how attention is being diverted from the actual event.
If the police believe that there was only one shooter, why have they not issued loads of pics of the interior of his room? Why are there only a few 'leaked' pics?
But there are other oddities. There were significant time gaps between one volley of shots and the next. You would think that a person with so many guns would have them all loaded and ready for use. Thus, after emptying one magazine, he would simply pick up the next gun and let fire immediately. The BBC has suggested that he planned to escape. If so, why did he not just let fire with one pre-loaded gun after another and then scarper five minutes later? The shooting lasted for a few minutes, even with the gaps between volleys. The shooter had plenty time to leave before the police arrived. Why did Paddock 'hang around' for almost an hour?
I vaguely go along with Frank Davis's theory; that Paddock was shadowed and 'captured', and that his room was used as one of  the shooting places by others who escaped after killing Paddock. It is not difficult to imagine that the real killers were looking for a lone male or female who was staying at that hotel or any other nearby hotel and enjoying gambling. It is especially important that his room was near the top of the hotel. It is likely that very few residents would be in the lifts who would be using the highest floors of the hotel. I have personally experienced that. I prefer a room with good views, and so I ask for a high floor. It is very rare indeed that I am not alone in the lift when I get to my floor. I am talking about ten floors – imagine how much more likely it would be that he would be alone in the lift with 32 floors.
As regards transporting all those guns and ammunition to his room, we know little about what sort of guns were found. Only those 'leaked' pics inform us.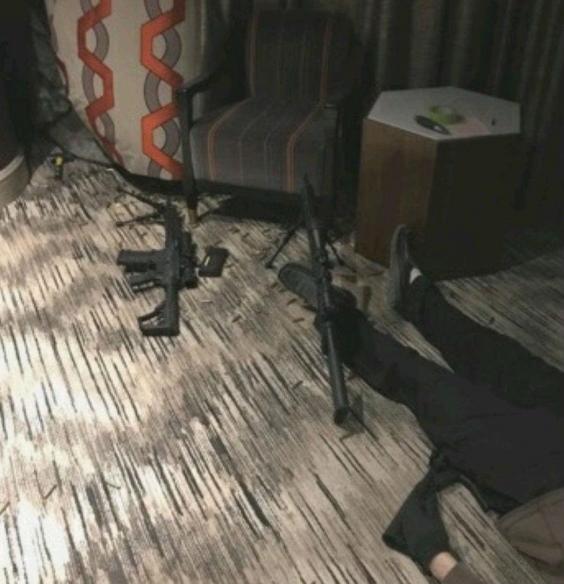 There is the dead body with a tripod over the foot. What is in the left hand?
Try as I might, I can only discern perhaps a very loose fitting glove touching something which mostly obscured by the body.
There is something 'fake' about that setup. Everything is too 'pretty'. The 'weapons' are just too nicely arranged. Here is another pic: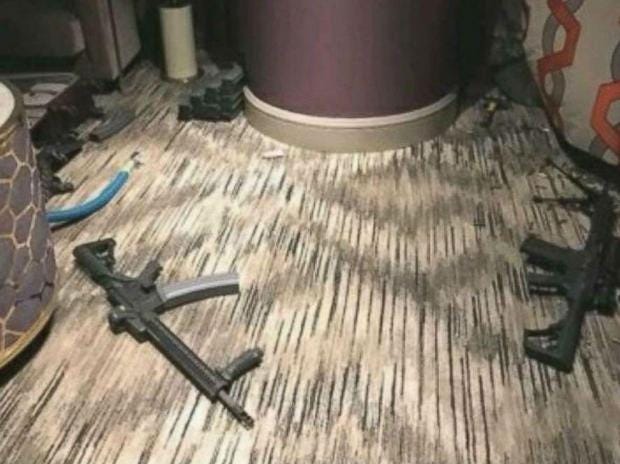 In your imagination, link the positions of the guns with the position of the body in the previous pic. It is all too neat.
I suppose that it is always possible that a wealthy person, who gained his wealth via property dealings, such as Trump, could suddenly go out of his mind and forgo his gambling pleasures and his many residences and his girl friend and decide to massacre as many people as he could before killing himself because he was upset, despite the fact that he was loaded.
What is the other reasonable possibility?
It is that Paddock was shadowed and grabbed (for lack of a better word). The guns and ammunition were carried to his room in relays during the day before the concert started. A couple of volleys were fired from his room, but the main attacks came from elsewhere. That would explain the time gaps.
I am surprised that Pres Trump has not already established a federal inquiry. Perhaps he has no 'legal' right to do so, unless it can be shown that 'terrorism' was involved. It is a 'State' matter.
We can and should expect loads of 'fake news' to erupt in order that 'now is a good time to bury bad news' can once again prevail. The hysterical 'fake news' will continue to be pushed until the Las Vegas shootings are forgotten. I estimate three weeks. And no detailed police reports will be released; and any 'inquiry' will concentrate upon how well the police and authorities coped, without delving into what actually was discovered.
We have seen it again and again. Masses of irrelevant detail about the persons involved, but almost nothing about what actually happened.
Not to worry. I am sure that the authorities will ensure that NOTHING LIKE THIS EVER HAPPENS AGAIN. To do so, all hotels in the vicinity of a public, open air concert will be closed, and tanks will be positioned to target any possible position from which a massive terrorist attack could take place. Or even to prevent a nutter from blowing everyone and everything to smithereens.
What seems to me to be true is that the more that Gov imposes laws and regulations, the more that chaos reigns. There are straight-forward 'rules' which we fully accept, such as driving on the left. All our vehicles are right-hand drive, but left-hand drive is OK, provided that the driver is aware. What is important is drivers orientate their vehicles on the left side of roads, whether their are markings or not. Those FACTUAL regulations we accept. But criminalising publicans for not using force to stop a person from committing the criminal act of setting fire to a paper tube of dried leaves, we do not and should not accept.
You see, the 'crime' is lighting the cigarette. It is not the smoking. Lighting a candle is not a crime, but it should be because it creates smoke.
Blair is fond of being photographed a 'statesman-like' pose. His pics show him in half profile with him gazing into an elevated future. All politicians love such poses. Those poses give them 'gravitas'.
The reality is that very few politicians have any real 'gravitas' at all. There is no sense of 'wisdom'. Had there been so, then such activist orgs as ASH and 'Action on Sugar' would have been told to survive on voluntary contributions, of which there are almost none.
Oh dear! I have drifted.
Expect VERY URGENT NEWS to appear any moment now.
Forget Las Vagas.